Walker College of Business Professor of Economics Ji Yan has earned the latest Eckstein Prize for the best article published in the Eastern Economic Journal in a two-year period (2013-2014).
The award was presented during the 2017 Eastern Economic Association (EEA) Annual Conference in New York City, which took place Feb. 23 - 26. Yan earned the prize for his article, "The Effects of a Minimum Cigarette Purchase Age of 21 on Prenatal Smoking and Infant Health," which appeared in Volume 40, Issue 3 of the Eastern Economic Journal.
Yan is an associate professor with a specialty in health economics in Appalachian State University's Department of Economics.
Pictured, Appalachian State University Associate Professor of Economics Ji Yan, left, with Eastern Economic Journal Associate Editor Diego Nocetti.
The Eckstein Prize was established by the EEA in honor of Otto Eckstein, a former president of the EEA, and is awarded biennially to the article in the Eastern Economic Journal judged to be the best over that period. A $1,000 award accompanies the prize.
The Eastern Economic Journal is a quarterly peer-reviewed general interest academic journal. It is sponsored by the Eastern Economic Association.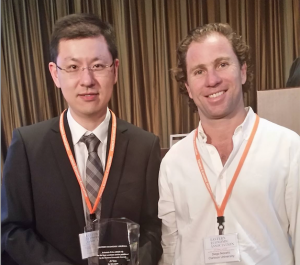 Tags: