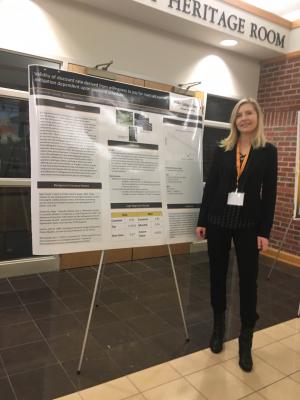 Appalachian State University seniors Alaina Doyle and Anthony Santelle traveled to Campbell University November 4 to present their research at the State of North Carolina Undergraduate Research and Creativity Symposium (SNCURCS).
SNCURCS provides undergraduate scholars in all fields an annual forum to share the results of their work through posters, presentations, performances
and works of art, showcasing North Carolina undergraduate student research and creativity.
Both Doyle and Santelle are earning a Bachelor of Arts degree in Economics through the Walker College of Business.
Doyle, a senior Religious Studies and General Economics double major and Mathematics minor from Cary, NC, presented "Validity of discount rate derived from willingness to pay for road salt run-off mitigation dependent upon payment schedule."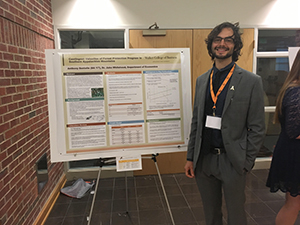 Santelle, a senior Environmental Economics & Policy major and Appropriate Technology minor from Waxhaw, NC, presented "Contingent Valuation of Forest Protection Program in Southern Appalachian Mountains."
Both students were mentored by Economics Professor John Whitehead.
"Alaina and Anthony worked hard, developed some interesting and policy-relevant research results, and capitalized on an opportunity to network with other outstanding undergraduates," said Whitehead.
"The students really did a nice job and were very excited and grateful for the opportunity," added a conference organizer.
Santelle's research was partially funded by the Lee Barnes Benefaction for Learning Enhancement and Enrichment, and travel for both students was funded by Appalachian's Office of Student Research.
About Student Research in Appalachian's Walker College of Business
The Walker College Business encourages students to participate in research supervised by a faculty mentor to: Learn more about issues or questions of specific interest; Learn how business firms and government agencies do research; Gain additional job skills; Work more closely in a collaborative and mentoring context with a professor, and Improve presentation skills. Business students are eligible to apply for a variety of research grants designed to cover costs associated with research projects or creative endeavors, including Appalachian State University Office of Student Research Grants, Barnes Program Research Grants, and the CERPA Scholars Program. Learn more at business.appstate.edu/students/research.