Congratulations to the students that submitted their research to the 2023 Brashear Research Competition in Economics! All five papers were impressive.
Adam Houston took 1st prize - best undergraduate paper in economics - for his paper titled "Recruiting Competitive Imbalances between NCAA Power Five and NCAA Non-Power Five Universities".
Abby Moore won 2nd place for undergraduate paper in Economics for her paper "The Effect of Global Supply Chain Fluctuations on Small Businesses" and
Craig McFarland was awarded a Graduate Research Prize for his paper "The Role of Football Win Percentage on College Applications for Power Five and Group of Five Schools".

The Brashear Award was created in honor of the late John H. Brashear, former ASU Economics Chair to encourage and celebrate student research in the field of Economics. Students enter an essay and/or poster competition to present their research to a committee of current ASU Economics Faculty. The winners are awarded sholarship funds.

2023 Brashear students: fom left to right: Craig McFarland, Antoni Marvin, Lauren Smith, Abby Moore and Adam Houston.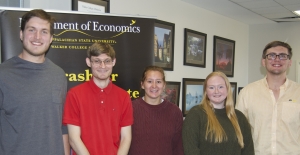 Tags: