Economics students Federico Pigozzi, Matthew Hawks, Bobby Weant, Jacqueline Hundley, Ben Sullivan and Jessica Robinson have won the regional College Fed Challenge.
The students presented on the state of the U.S. economy and made recommendations for monetary policy. Economics professor Mark Strazicich, who serves as faculty advisor for the Fed Challenge team, accompanied the students.
The annual competition is hosted by the Federal Reserve Bank for undergraduate students across the U.S. The regional competition was held on October 28 at the Martha and Spencer Love School of Business' Koury Business Center at Elon University, where eight universities from North and South Carolina competed for the top spot in the region.
Each team was allotted 20 minutes to provide an overview of the state of the economy in terms of macro variables such as inflation, the unemployment rate, real GDP, manufacturing, housing, the banking system, consumer's sentiment, the exchange rate, foreign trade, and interest rates. Following the presentation, there was a 10-minute question and answer session with a panel of judges. The questions posed by the judges and the scenarios given to the finalists were provided by economists from the Federal Reserve Bank of Richmond.
"It was a rigorous and demanding competition and I am proud of our team," said Dr. Strazicich. "The students were knowledgeable and well prepared. They represented Appalachian extremely well while increasing their understanding of the macro economy and the theory and practice of monetary policy."
The Appalachian team will next travel to the district competition to be held at the Federal Reserve Bank in Richmond, VA on November 9, where they will compete against the winners from the other two regions of the Federal Reserve Bank of Richmond representing universities from Maryland and the District of Columbia, and Virginia and West Virginia, respectively. The winner of the district competition will go on to compete at the national competition to be held at the Board of Governors of the Federal Reserve System in Washington, D.C. in December.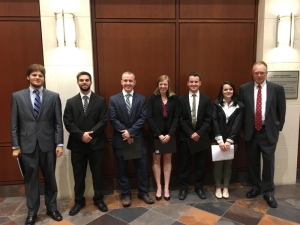 Tags: