Walker College of Business Professor of Economics Dave McEvoy is featured in a video released by the University of Innsbruck in Austria.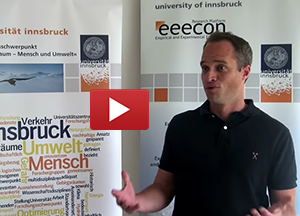 In the YouTube post, McEvoy discusses the economics of international climate agreements:
Economists typically view climate change as a global collective action problem. While countries are individually better off left unconstrained, collectively they are better off cooperating to reduce greenhouse gas emissions. However, recent survey evidence suggests that most people, including Americans, support domestic policies to stop climate change regardless of what actions other countries take. Support for unconditional climate change policy in the United States can be explained by preferences for fairness, responsibility and global leadership. In this video Dr. McEvoy summarizes findings from recent research.
The video discussion is part of a June 2016 activity hosted by the Research Center Climate – Cryosphere and Atmosphere at Innsbruck. The center constitutes an interdisciplinary platform with the goal to foster collaboration and knowledge exchange among scientists from many different research disciplines and organizational units.
Dr. McEvoy is a guest professorship in the Institute of Public Finance at the University of