Students from Appalachian State University are featured in a new video promoting participation in the College Fed Challenge, a competition designed to bring real-world economics into the classroom.
The featured students participated in the 2016-17 Fed Challenge and boasted a winning streak that earned Appalachian an honorable mention in the finals of the competition, alongside Princeton University and the University of Chicago.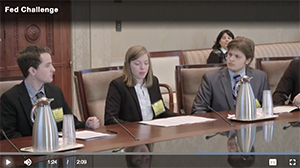 In the video, students share their experiences in the competition. "l'm learning what the Fed is talking about today, instead of just theoretical policies," said MS in Applied Data Analytics student Jacqueline Hundley. Hundley is interviewed at minute 1:17/2:09.
Related: Appalachian economics students place first in regional and district College Fed Challenge, earn honorable mention in finals