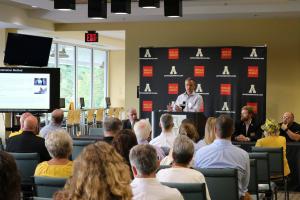 The impact of App State Athletics on the surrounding region is significant, according to research from Appalachian State University's Center for Economic Research and Policy Analysis (CERPA).
A recent post from AppstateSports.com explains that the estimated economic impact of the university's athletic activities on the High Country is approximately $54 million annually. The economic activity also generates about 640 local jobs.
The study was conducted by Department of Economics Chair Todd Cherryand CERPA Director Ash Morgan. "Athletics has many different impacts to the area, but this study focuses on the economic impact," explained Cherry. "The economic impact is meaningful because the events generally attract people and spending to the area that would not be present otherwise."
Morgan delivered comments about the study during the Aug. 25, 2017 Wake up Watauga event, hosted by the Boone Area Chamber of Commerce(pictured).
About the Center for Economics Research and Policy Analysis (CERPA)
The Center for Economics Research and Policy Analysis (CERPA) at Appalachian State University enables decision-makers to implement policies that better achieve targeted outcomes by producing research and disseminating information on current economic and policy issues. Housed in the Walker College of Business Department of Economics, CERPA maintains the Appalachian Experimental Economics Laboratory (AppEEL) as part of the experimental economics program and encourages faculty and student student research. For more information, visit cerpa.appstate.edu.
About the Walker College of Business
The Walker College of Business at Appalachian State University delivers transformational educational experiences that prepare and inspire students to be ethical, innovative and engaged business leaders who positively impact our community, both locally and globally. The college places emphasis on international experiences, sustainable business practices, entrepreneurial programs, and real-world applications with industry. Enrolling nearly 3,000 undergraduates in 10 majors, and approximately 175 graduate students in Master of Business Administration, Master of Science in Accounting and Master of Science in Applied Data Analytics programs, the Walker College is consistently named one of "The Best Business Schools" by The Princeton Review and is accredited by AACSB International – the premier global accrediting body for schools of business. For more information, visit business.appstate.edu.