From the Richmond Fed:
Students from Appalachian State University won the district title in the Federal Reserve Bank of Richmond's College Fed Challenge competition. The winning team included students Matthew Hawks, Robert Weant, Ben Sullivan, Federico Pigozzi, Jacqueline Hundley and Anthony Santelle (alternate). The team was coached by Professor Mark Strazicich.
Appalachian State University, located in Boone, North Carolina, competed in the district finals against teams from American University, Washington, D.C., and the University of Virginia, Charlottesville, Virginia. By winning the district title, Appalachian State University advances to the national competition to be held December 1 at the Federal Reserve Board of Governors in Washington, D.C.
Preliminary rounds of the competition were hosted by participating schools within the Fifth Federal Reserve District.
College Fed Challenge is an academic competition designed to deepen students' understanding of the nation's central bank. Students delivered 15-minute presentations on monetary policy and fielded questions from judges during a 15-minute Q&A session. Teams were scored on content and analysis, responses to questions, teamwork, presentation and style.
Pictured: Left to right – Ben Sullivan, Robert Weant, Federico Pigozzi, Anthony Santelle (alternate), Professor Mark Strazicich (faculty advisor), Matthew Hawks and Jacquelinie Hundley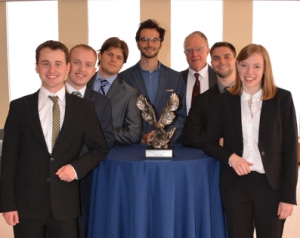 Tags: