BOONE, N.C.—Economics students from the Walker College of Business at Appalachian State University received an honorable mention, as did Princeton University and University of Chicago, for their work in the 13th annual national College Fed Challenge. The Federal Reserve System Board of Governors announced the awards Dec. 1. The team placed first in their Regional and District competitions before moving on to the finals in Washington, D.C.
Pictured: Appalachian State University economics professor Dr. Mark Strazicich, left, and Federal Reserve Board Chair Janet L. Yellen, front row, right, with the Appalachian team that competed in the College Fed Challenge. In the Board of Governor's meeting room prior to the competition are, from left, Ben Sullivan of Ashburn, Virginia; Matthew Hawks of Mount Airy; Jacqueline Hundley of Cary; Federico Pigozzi, Trieste, Italy; Anthony Santelle of Waxhaw; Bobby Weant of Salisbury; Jessica Robinson of Cary; and Roberto D'amato of Margarita Island, Venezuela.
The undergraduate teams participating in the challenge analyze economic and financial conditions and formulate a recommendation, modeling the Federal Open Market Committee. The Challenge's goal is to encourage students to learn about the U.S. economy, monetary policymaking and the role of the Federal Reserve System.
"Our students worked hard, and it is an honor to compete at the national level," said Walker College of Business Professor of Economics Mark Strazicich, who served as faculty coach to the students.
The Appalachian students are senior economics and finance and banking double major Jacqueline Hundley from Cary; senior economics major and music minor Ben Sullivan from Ashburn, Virginia; senior economics major and Spanish and international business double minor Matthew Hawks from Mount Airy; Federico Pigozzi, an economics of financial and insurance markets student from Trieste, Italy, studying at Appalachian this semester; junior environmental economics and policy major and appropriate technology minor Anthony Santelle from Waxhaw; senior economics and finance and banking double major Bobby Weant from Salisbury; sophomore international economics major and French and francophone studies minor Jessica Robinson from Cary; and sophomore economics and finance and banking double major Robert D'amato from Margarita Island, Venezuela.
Teams gave 15-minute presentations and answered questions from a panel of judges. Teams were evaluated on economic analysis, responses to judges' questions, teamwork and presentation.
"The meeting room where the competition was held is the same room where the Federal Open Market Committee holds their meetings to vote on changing interest rates," said Strazicich. "It was a great experience for all of us."
"Preparation for the Fed Challenge broadens students' understanding of the workings of the U.S. economy and the Federal Reserve," said Yellen. "The competition provides a forum for participants to apply their knowledge in the areas of economics and finance and is intended to promote further study and perhaps even careers in these fields."
Five teams competed at the national competition. Rutgers University placed first and Dartmouth College placed second. Approximately 75 teams competed in the preliminary rounds of the challenge.
The judges at the competition were: Ellen Meade, senior adviser in the Division of Monetary Affairs at the Federal Reserve Board of Governors in Washington, D.C.; Argia Sbordone, vice president in the Macroeconomic and Monetary Studies Function at the Federal Reserve Bank of New York; and William A. Strauss, senior economist and economic advisor in the Economic Research Department at the Federal Reserve Bank of Chicago.
About Walker College of Business
The Walker College of Business at Appalachian State University delivers transformational educational experiences that prepare and inspire students to be ethical, innovative and engaged business leaders who positively impact our community, both locally and globally. The college places emphasis on international experiences, sustainable business practices, entrepreneurial programs, and real-world applications with industry. Enrolling approximately 2,800 undergraduates in nine majors and nearly 150 graduate students, the Walker College is accredited by AACSB International – the premier global accrediting body for schools of business.
About Appalachian State University
Appalachian State University, in North Carolina's Blue Ridge Mountains, prepares students to lead purposeful lives as global citizens who understand and engage their responsibilities in creating a sustainable future for all. The transformational Appalachian experience promotes a spirit of inclusion that brings people together in inspiring ways to acquire and create knowledge, to grow holistically, to act with passion and determination, and embrace diversity and difference. As one of 17 campuses in the University of North Carolina system, Appalachian enrolls about 18,000 students, has a low student-to-faculty ratio and offers more than 150 undergraduate and graduate majors.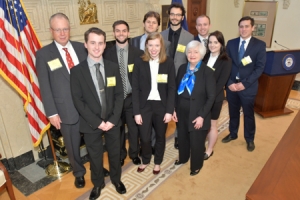 Tags: