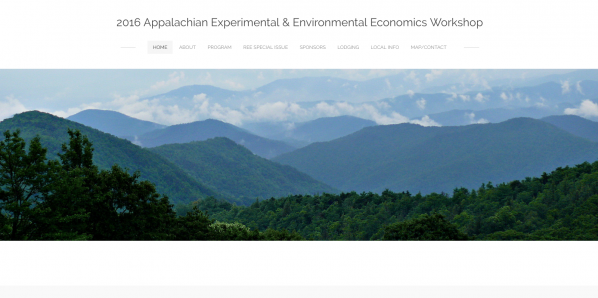 The Department of Economics and the Center for Economic Research & Policy Analysis (CERPA) at Appalachian State University will host its 4th annual Appalachian Experimental and Environmental Economics Workshop on April 29-30, 2016 at the Blowing Rock Art & History Museum (BRAHM) in Blowing Rock NC.
Participants will explore recent advances and applications of experimental methods—defined broadly to include laboratory, field and survey experiments—in the area of environmental and natural resource policy.
View a program of the scheduled events.
The workship is arranged to be a catalyst for a special issue at Resource and Energy Economics. Participants are invited to submit a paper for the special issue. Papers will be subject to the standard review process; all submissions will undergo the standard review process and reviewing is based on the standard criteria for quality.
Funding for the event is provided by the the Department of Economics, CERPA, Appalachian Experimental Economics Laboratory, Research Institute for Environment, Energy and Economics and the Walker College of Business.
To learn more about the event, visit the website.