Using the Boone Creek watershed that runs through Appalachian State University's campus as a laboratory, an interdisciplinary research team at Appalachian has been studying impacts from stormwater runoff and how to manage that runoff.In addition to assessing how to reduce runoff, the team has conducted surveys throughout the Appalachian region to learn more about public perceptions of stormwater.

"We found that people are somewhat concerned about runoff, generally, as a water quality issue," said research team member Tanga Mohr, professor in Appalachian's Department of Economics. "Those people who were concerned, did report a willingness to install stormwater management technologies on their property," she added.

Funding for this survey work was provided by the Research Institute for Environment, Energy and Economics at Appalachian.
Full story: Respondents willingness to pay for stormwater management and reduced negative effects from runoff.

About the Department of Economics at Appalachian State University
The Department of Economics in Appalachian State University's Walker College of Business is an intellectually vibrant place for students and faculty. As a research-intensive department committed to student learning, the department offers a wide range of courses that provide critical-thinking and problem-solving skills, complemented by student-faculty research collaboration. Our faculty members are engaged in research that advances knowledge and identifies solutions to problems in areas related to energy resources, environmental policy, economic development, health and public policy. The Department of Economics is ranked among the leading U.S. economics departments for research productivity, and is particularly strong in environmental and experimental economics. Learn more at economics.appstate.edu.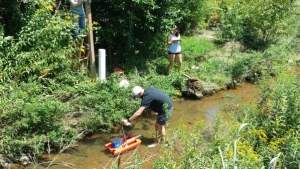 Tags: